"Any clue is legitimate which leads, by whatever route, to an answer which, 
80 per cent of the time, can be known to be correct as soon as it appears to the mind."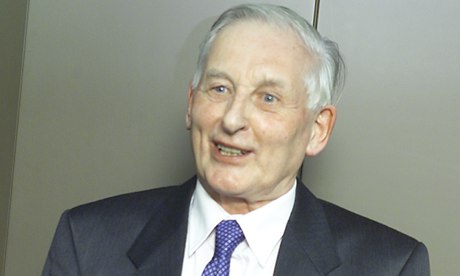 John Graham (1921-2013)
Sad news from across the pond.  
The Reverend John Graham MBE
(Araucaria in The Guardian; Cinephile in the Financial Times) 
succumbed
to the cancer that he informed his fans of last December of
via a puzzle
.  His
final opus
was published just two weeks ago, including another message.
At The Guardian, 
Simon Hoggart
, 
Hugh Stevenson
,
David McKie
, and
Christopher Howse
 share their recollections and insights, and
Alan Conner
posted a selection of his
favorite Araucaria clues
.
Cinephile's last FT puzzle, published this weekend was
No. 14,484
(for the FT, not Graham: the British style [adopted by Frank Lewis at The Nation] is to give each puzzle a serial number).  The obituary in the FT is by
Colin Inman
, and there's also a comment by
Christopher Caldwell
linked: Caldwell is senior editor and columnist at the Weekly Standard, a newer (but no less worthy) conservative counterpart to The Nation, showing that crosswords are indeed something to undo the divisions that come up in the rest of our lives.
A virtual wake is being held at
Fifteensquared
 should you wish to share your thoughts and condolences.  Finally, a interview filmed in 2012 is posted below the fold, in which Araucaria shares thoughts on his craft.
So the weekend's brunch menu starts with a
tribute puzzle
from the Guardian, No. 26,118.  The creators sign their work at 24d.  Even if you don't normally try and solve British puzzles, give this one a go along with the rest of us.
The Wall Street Journal has a variety cryptic by Hex called "
In the Shop
."  Commenter Meg warns you to pay attention to the instructions.  Hex's
straight cryptic
is in the National Post as usual, blogged by Falcon.
The prolific Kevin Wald gets invited to lots of parties because he always brings tasty puzzles.  "
Evening Out
" and "
More Flippin' Games
" are his latest.  The constructor warns of "inside references" in the latter, but if you figure out the rest of the themework, just trust your instincts: there's really only one letter that can't be worked out from the theme.
This weekend's New York Times variety puzzle (behind the 
paywall
) is an acrostic by Hex.
If you're a Puzzazz user, check out their
sale
going on this weekend.  There are two free word puzzle books if you follow the directions at the link, there are two free books of your choice (up to $5.00 each) if you buy The Year of Puzzles ($19.95), and everything else is buy one, get one free.
So let's have Reverend Graham have the last word...