Important note: the enumeration for 15d in this puzzle as published is incorrect.
Hot says it was supposed to be (9).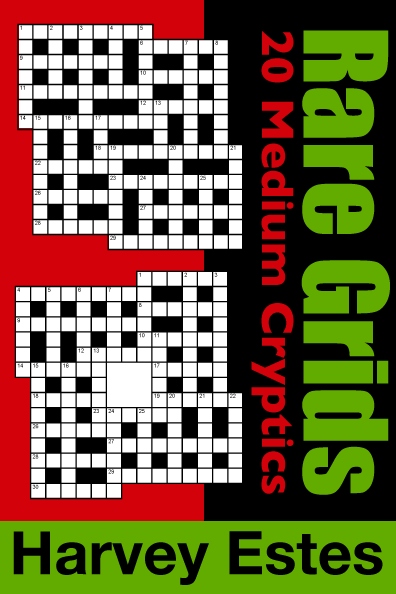 I've been on something of a
Puzzazz
kick lately while I'm riding the El or waiting for a train. Having finished the
Mike Selinker book
, I'm working on
Medium Cryptics with Rare Grids
by Harvey Estes. Estes is known mainly for regular crosswords, but he does block cryptic as well, and these 20 puzzles all have grids that are out of the ordinary (I wouldn't call them "rare" though). Mainly they have something less than 15 whites in the outside rows and columns, so they aren't square.
They do work out to be more interlocked than most block cryptics, and where the quadrants intersect, there are words where every letter is checked. A little more challenging to construct, I imagine. True to the label, they're moderate in difficulty: a little harder than Hex in the National Post and not as devious as Hot and Trazom in The Nation.
Speaking of Hot and Trazom, let's go to this week's puzzle...
The Nation Puzzle No. 3,302
Link to puzzle
:
http://www.thenation.com/article/177011/puzzle-no-3302
Degree of difficulty
(by standards of this weekly puzzle): Hard--several typical Hot and Trazom twists including one twistier than usual (12a). The glitch in the enumeration had me stuck for a while too.
Hozom's comment:
The Long and Short of It
, in which Hot and Trazom argue for terseness of clues. Extraneous words violate Ximinean principle (definition, wordplay, nothing else). We also learn that this is one of the areas where Hot and Trazom have opted not to follow in their predecessor's footsteps, except when there's something playful to do with the theme.
I'll be back with the solution and annotation for 3,302 on Monday. Join us every weekend for Sunday brunch!