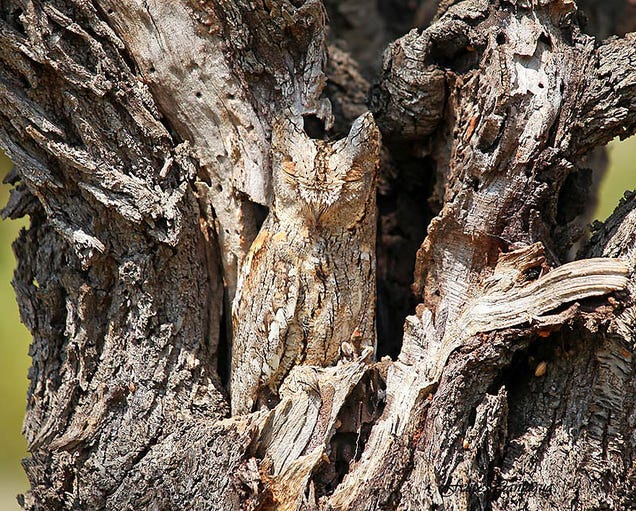 Speaking of hidden in plain sight (Word Salad this week),
can you see the owl here? More at Gizmodo.
Last week, Hot and Trazom explained the concept of "surface" in a clue. It's the first impression you get from it. The surface can make a clue easier or harder, depending on whether it makes the indicator obvious, disguises it, or sets up a misdirection.
Related to that is the first impression you get from the topmost acrosses and the leftmost downs. They're usually where solvers dig into a puzzle, and if they get those right off the bat (*), we feel the puzzle will be easy, and if those first answers are tough to get, we feel the puzzle will be hard.
So those first clues are another way that a diabolical constructor can mess with your mind. While it's good form to have a fairly consistent range of difficulty among the clues (it's what I refer too as a "smooth" solve), the firsts are the best place to adjust the perceived overall difficulty of the puzzle.
This week's puzzle, at least for me, was one of those that started out harder than it finished. How about you?
Link to puzzle
:
http://www.thenation.com/article/190265/puzzle-no-3345
Degree of difficulty
(by standards of this weekly puzzle): moderate, once I bypassed 1a and 1d
Hozom's comment
:
Free Lunch
, in which Hot and Trazom reply to critics who don't like answer pieces appearing verbatim in the clue (these are the elements that I indicate with a †). My experience is they show up about twice a puzzle on average. Most of the time it's necessary to make the clue read in a sensible fashion, but with a good misdirection that supposedly-easy bit can effectively camouflaged.
Weekly cluing challenge
(at Word Salad): FREEBIE
Back with the solution Monday. Join us this weekend for Sunday brunch.